The retail industry segment represents just under 10% of the Global 5000 companies and with the holiday sales tallies being reported and earnings season beginning, we are hearing the not-so-jolly news from the retail sector. This is worth a closer look.
It was not a particularly strong season plus the brick & mortar general stores seemed to be all issuing warnings and announcing store closings.  From Sears selling its Craftsman brand to Macy's and Kohl's closings to Target's earnings warnings today, it all sounds pretty gloomy. But this is not just a reaction to the current holiday or recent quarter or even the past year. The seeds of retail woes in brick & mortar big, general merchandise stores have growing over the years.
Take a look at the chart below that illustrates the challenge.  We selected 258 retailers from the Global 5000 database, eliminating, auto parts, home improvement stores and food/drug stores.  And we took out Amazon and set them aside,  From this group we went back to their revenue in 2009 and compared each year's growth using 2009 as a base index. And then did the same with Amazon showing it's growth over the years from 2009.
While Amazon is not a direct 1: 1 replacement for all of retail, it illustrates the problem. The aggregate revenue for those 250+ retailers has been growing at a paltry 2.6% growth rate from 2009 to 2015.  And 2015 was a down year. 2016 may be as well when all the financials are reported.
Amazon, the poster child for the online shopping community has shown a continuing upward growth curve and 2016 is most likely to be reported on that same angle. Now, Amazon starts putting a toe in the food store pool which will likely fuel more growth.
While all this makes headlines, no one should be surprised. Just look at the data.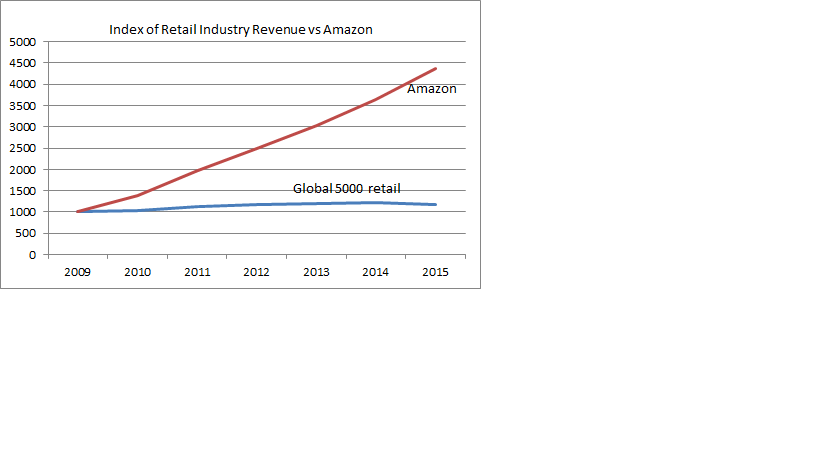 Save