With the rush of funding into the dynamic startup world of FinTech, even more new companies and types of opportunities appear daily. With an eye towards securing funding, many types of companies claim to be a FinTech startup so the definition of 'what is Fintech?' becomes really broad. Trying to keep track of it all is a full time endeavor.
As this market begins to mature and companies move beyond early stages into products and operating entities,  The measure of success will move from amount raised to revenue and market share growth. One of the promises of FinTech has been that it will disrupt existing financial businesses – therefore generating revenue is one measure of that success. Correspondingly, we need to also measure the ongoing business of existing financial corporations.
With the broad brush painting of all sorts of businesses as FinTech, we have started to classify/categorize companies by their main business activity. There are a number of similar schemes in existence today with no industry standards like SIC or NIACS codes. And, with the industry still growing and morphing, we should expect this will continue to change over time.
For the present, below here is our view of the FinTech industry groupings.  We have tagged each company with a Level2 industry code and those levels 2's all roll up to a Level 1.  With this scheme, we will then be able to keep track of revenue and employees in each of these segments.
We welcome your comments, feedback and suggestions.  To learn more about our FinTech Dynamic database – go to this page.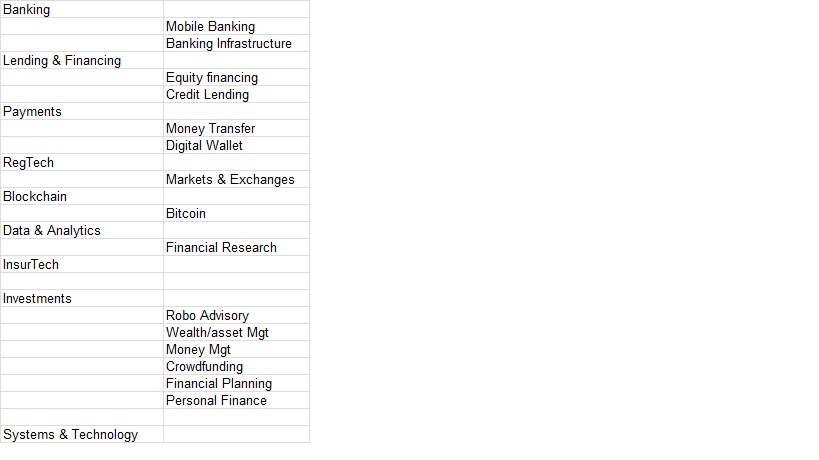 Save