Amazon's recent announcement of the Whole Foods acquisition sent a shiver thru the retail industry. We have read any number of articles over the past few years about the death of retail as some traditional retailers (Sears is the oft mentioned example) as internet shopping initiatives have grown by leaps and bounds. Not only do we have big revenue growth from Amazon and Alibaba but continuing innovation from the traditional players like Wal-Mart and Target are changing the operating landscape.
Through all the change (and there will be much more ahead) the retail portion of the global economy continues to roll along. Look at the chart below. In our Global 5000 database we have 419 companies in the Retail & Wholesale Trade industry group. The chart is an index showing the combined revenue growth per year starting in 2006 compared to the total Global 5000 market. The story here is not that retail is on the ropes as some would suggest – rather it is changing and morphing with new technology options and combinations like the Amazon / Whole Foods.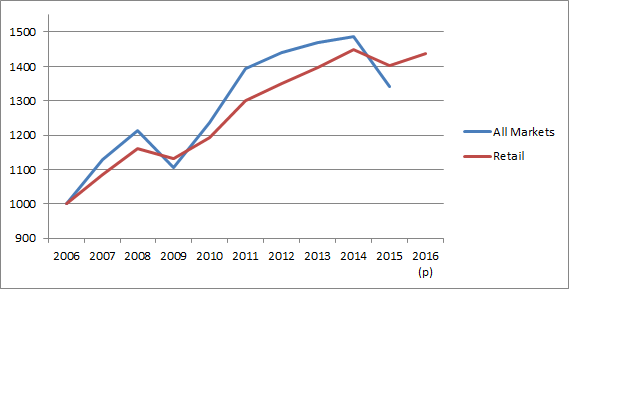 It is probably a safe bet that there will be other combinations as these markets play in the shifting sand. Here is a list of the top 50 global retail/wholesalers that bear watching.
Wal-Mart Stores, Inc.
CVS Caremark Corporation
Amazon.com
Costco Wholesale Corporation
Walgreens Boots Alliance, Inc.
Kroger Company
Lidl Stiftung & Co
Home Depot, Inc.
Carrefour
Aldi (ALDI Einkauf GmbH & Co. oHG)
AEON Co Ltd
Tesco plc
Target Corporation
Lowe's Companies, Inc.
Metro AG
E.Leclerc SA
REWE Group
Albertsons LLC
Groupe Auchan
Finatis SA
Les Mousquetaires
Sysco Corporation
Woolworths Ltd
Royal Ahold
Foncière Euris
Seven & I Holdings
Casino Guichard-Perrachon
Best Buy Co, Inc.
Jardine Matheson
Spar International
J. Sainsbury
IKEA Systems B.V.
George Weston Limited
Alimentation Couche-Tard Inc.
Publix Super Markets
TJX Companies, Inc.
Edeka Zentrale
C&S Wholesale Grocers
Rite Aid Corporation
JD.com
Migros Group
Wal-Mart de Mexico (Walmex)
Delhaize Group
Bailian Group
Coop Group
Macy's, Inc.
Lotte Shopping
Rajesh Exports
Reyes Holdings
William Morrison Supermarkets
Systeme U Centrale Nationale S.A.
Mercadona SA
HE Butt Grocery
US Foods
Pilot Flying J
H&M Hennes & Mauritz AB
Sears Holdings Corporation
Dollar General Corporation
AutoNation, Inc.
Suning Commerce Group
Wolseley Plc
Dollar Tree Stores
Companhia Brasileira de Distribuicao (CBD)
Penske Automotive Group
Groupe Adeo
Kohl's Corporation
Staples, Inc.
Cumberland Farms Group
Performance Food Group
Wakefern Food Corporation
Whole Foods Market
Gap, Inc.
Fast Retailing Co., Ltd.
Genuine Parts Company
Save
Save