Various news articles this week picked up on the WPP story where the company Chairman, Sir Martin Sorrell indicated WPP's growth this year will be minimal. Much of the reason was directed toward large consumer goods firms cutting back on their spending — which WPP and other advertising related businesses depend on.
Some of the analysis we read related to this story also pointed to the changing retail picture and the "Amazon effect" where the long established retailers have struggled in light of the internet retail market.  The thought process here is that the traditional ad agency (like WPP) does well when working with the traditional channels, but the shifting tides have caused ripples throughout the market . . . and WPP is feeling those as much as it is feeling any consumer weakness or slowing.
There is a third aspect to this as well and it is the role of the media.  Media revenues (and their impact) have been shrinking for a number of years. We see it as working hand-in-hand with the changing retail picture.
While we don't doubt there could be some slowdown effect of spending slowdown on the part of consumer goods and services companies, we attribute more of the spending slowdown to the advertising clients (consumer products vendors) not having a good handle on how & where their products will be sold (the retail problem) and how to reach them (the media problem) and if the consultants and ad agencies (like WPP) not knowing how best to be effective in this new scenario.
To look at some data, we examined Global 5000 companies in 3 industries – Consumer products vendors, Retailers and the Media (broadcasting and publishing).  The chart below shows what has happened among these companies over the past few years from 2010 thru 2016.  The data is indexed and shows year on year changes in revenue for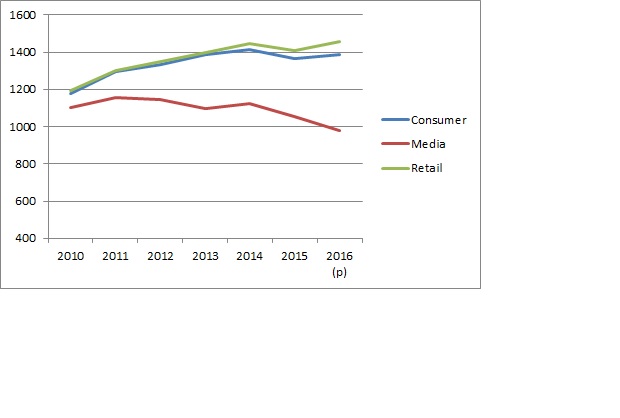 The Retail segment depicted here includes both online and offline retailers like Amazon. We see how both retailers and the large consumer companies have moved in relatively similar patterns of growth over the past few years which is logical. Obviously there are shifts in the makeup of the retail players. The media segment has taken been on a different path altogether. And now, WPP is expecting no growth.
So, while a slowdown in spending is a real concern – the larger concerns are more nuanced, more complicated and potentially really disruptive.
Save
Save