Welcome to marketing on a global scale: the 5,000 largest businesses in the world - at your fingertips.
Introducing the Global5000 Database
With the Global5000 Database, you have access to:
5000 Companies in
30 Major Industry Groups and
Over 50 different Countries
Currently, the database contains a total of 4,515 active records in the file representing $58 trillion (USD) of revenue and 130 million employees.
This select group of companies represent approximately 70% of the WorldWide GDP. The revenue per employee for these top companies in the world is over $357,000. The database has a lot more to offer you…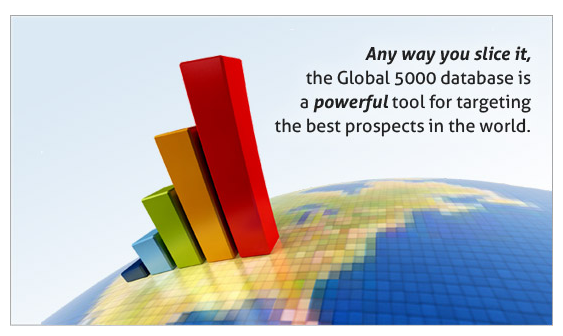 The Global 5000 is a researched & compiled database with a goal of finding the 5000 largest companies in the world.
Based on revenue/sales generated, The Global 5000 contains both public and private companies, covering all industries in all countries.
We go beyond existing lists and rankings of products like the Fortune 1000 or Forbes private rankings.
The Latest Database
During the month of November, we added 58 new companies, while removing 17 others which brings the total active records in the database to 4,981 for the Global 5000 database. To date this year, we have added 414 companies to the database and removed 143 due to...
read more
News & Information
The proposed AT&T / Time Warner merger is certainly a headline grabber with not only two iconic corporate names involved but an amazing $85 billion dollars on the table. It is the latest turn in the evolving picture of technology and distribution meet content. All...
read more
Free Subscription
Industry News & Updates
Sign up to get our free newsletter & get your free Global 5000 report.